How to Place an Interlibrary Loan Using WorldCat Discovery
*This Page is being updated
First Check the Fresno County Public Library Catalog

Search the Fresno County Public Library catalog to determine if we already own the item you want. If you cannot find the material in our catalog, submit a request through WorldCat, our Interlibrary Loan service.
Search the WorldCat Database
Enter your library card barcode number on the initial Remote Patron Authentication screen. Click Login. You will either be forwarded to the search screen or a message will appear indicating why you are not allowed to go further.
From the WorldCat search page, fill in one or more of the search boxes and click the search button.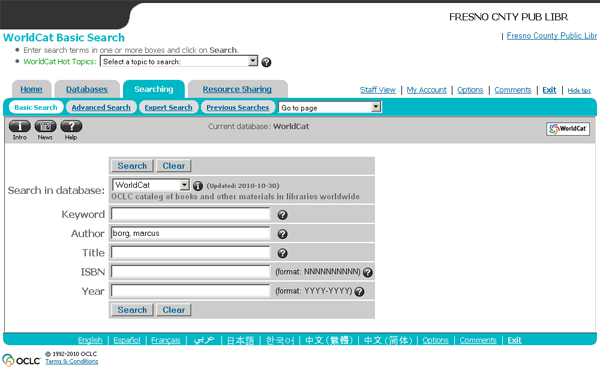 Click on the title of the item you want to request.
If you see the Fresno County Public Library symbol it means this item is owned by our library and should be requested through the Fresno County Public Library catalog, not WorldCat.
If the item is not owned by Fresno County Public Library, click either the ILL button above the title information or the text below the title information that reads "Borrow this item from another library (Interlibrary Loan)."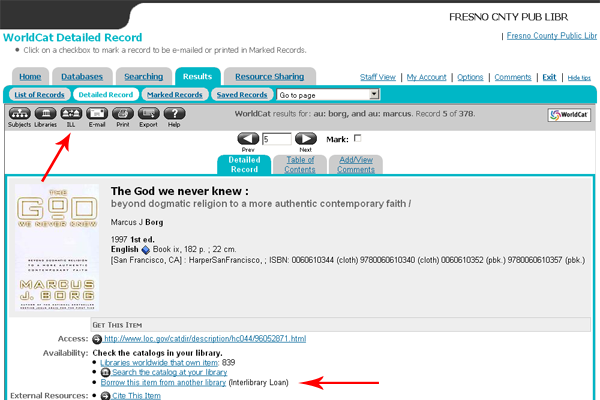 Fill out the Interlibrary Loan Request form. Items marked with a "*" are required.
Click the "Submit" button.
Note: If you are submitting a request for:

Microfilm: Provide the date needed (for example: The New York Times; Jan-Mar 1920) in the "Comments" section.
Magazine article: Provide the volume, date, page numbers, author and title of the article in the "Comments" section.