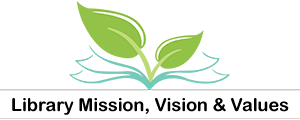 MISSION
Our mission reflects the commitment we are making to the community.
---
WE ENRICH LIVES AND BUILD COMMUNITY.
VISION
Our vision articulates what success will look like in the future.
---
THE FRESNO COUNTY PUBLIC LIBRARY

Is recognized as a premier resource for educational support, self-directed learning and recreation.
Provides creative and innovative services to meet evolving community needs.
Is a welcoming community gathering place and a cornerstone of family, cultural and civic life.
Bases all service decisions on customer needs and preferences.
Is a vibrant organization that is strengthened by the creative contribution of each individual
VALUES
Our values direct us in our service to the community and interaction with one another.
---
INCLUSIVENESS

Making rich cultural and intellectual resources available to everyone.

COMMUNITY

Providing opportunities for people to meet, exchange ideas and engage in the life of their community.

CONNECTION

Facilitating meaningful collaborations between individuals, groups, and organizations

RESPECT

Honoring diversity and individual perspectives.

INSPIRATION

Inviting the discovery of ideas and learning in all forms.
Our STRATEGIC PLAN set the course for our priorities and activities from 2015-2018.