Cedar Clinton Branch Library
4150 East Clinton Avenue
Fresno, CA 93703
(559) 442-1770
Supervisor:Jennifer Bethel
This branch is now closed to prepare for moving to the new Betty Rodriguez Regional Library.
Close-by branches include Central, Mosqueda, Sunnyside, Senior Resource Center and Politi. The Senior Resource Center is the closest on Dakota, between Blackstone and 41.
Any holds scheduled for pick up can be picked up at the Central Library.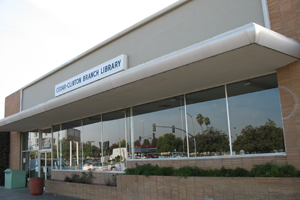 The Library's Bookmobile will be at the new Betty Rodriguez site, located at the southeast corner of Cedar and Shields, during the following days and times:
Saturday, December 5th from 11am – 1pm
Wednesday December 9th from 2:30pm - 4:30pm
Saturday, December 19th from 11am – 1pm
Wednesday, December 23rd from 2:30pm - 4:30pm.
The Betty Rodriguez Regional Library grand opening is Saturday, January 9, at 1pm. See you there!
---
Services

Express Checkout
Internet Stations for Public Use: 11
2-Hour Laptop Checkout: 6
Printer: Black & White - 10¢
Photocopier: Black & White - 10¢
Parking: Small lot in front. No time limit. Parking usually scarce on school days when McLane High classes end (around 2:30-4:00 pm).